With a global pandemic testing their resilience, licensing candidates discovered light at the end of the tunnel as they pursue God's call on their lives.
LPU Polity Class touring the Parsonage of Aimee Semple McPherson prior to COVID-19 restrictions.
This year, 47 Life Pacific University graduates, including 13 LPU-VA students and one international student, pursued Foursquare ministry licensing, representing nearly all degree programs. Although the global pandemic threw a wrench into the "typical" process it also brought some unexpected surprises as students prepared for a lifetime of Christian service. Most were able to be face to face with their panel, but others had to complete the process virtually.
Liz Schwartzkopf, Recommended Foursquare Pastor
Ellie Dawson hopes to minister among performers in theater as she participates in the dramatic arts. Micah Mulock is called to serve as a Creative Pastor leading people to Christ through artistic avenues. Ben Placide aspires to bring Christian art back to the forefront of art culture and be part of the next major shift in music.
LPU students answer God's call to share the gospel serving locally and globally in church ministry and other venues like the fashion industry and the arts. Also emerging successfully from the licensing panels this year, students will pursue military chaplaincy, youth ministry, higher education and academia, and become ministers in diverse venues such as the action sports industry.
Students are pursuing ministry in never-before dreamed of places, a fitting understatement for a year when "Safe at Home" orders from local and national leaders altered everything that was expected about our licensing panels.
Ministerial candidates at LPU typically experience an entire semester of hands-on polity training to prepare them for face-to-face interview panels. Over the years, students have characterized the process as challenging but affirming, intense but rewarding. In every case, interviewers reassure candidates throughout the process allowing students to do their best as they share what they have learned and how God has called them to serve.
Jasmine Barron - Recommended Foursquare Pasto

r
Miguel Montiel Moreno plans to use his education and future grad school learning as a means of evangelism. "God has called me to pick up the skill of teaching the English language in order serve and teach my community," Miguel says.
Kristina Stover in the LPU Office of Calling and Vocation points out that students like Miguel have their own story of why they pursue their ministerial license. Beyond a vibrant call to Christian service, licensing candidates also hope the panel of veteran ministers see unique qualities in them for Foursquare ministry. They want panelists to recognize the thorough training they have received at LPU in the history and mission of The Foursquare Church.
Jessica Lopez shared with the panel how much she appreciates the intergenerational, multiethnic Foursquare family and believes her education at LPU has prepared her to pastor others in racial reconciliation. Among many aspirations for ministry, Jessica wants to create safe places for hard conversations of reconciliation in the Name of Jesus, be a church planter and missionary, and ultimately become an advocate for social justice in the Church.
"Having a pandemic interrupt the semester definitely threw a wrench in our normal routine," Kristina says. Rather than derail students however, she believes the online format helped them feel more at ease in responding to questions in a virtual environment that many students already find comfortable.
The digital experience was not without its drawbacks. Virtual interviews replaced face-to-face interaction. Breaks during each panel, under normal circumstances, allow for students to mingle with interviewers. With digital panels, students sat in online "waiting rooms" unaware if they were being privately discussed or if interviewers were simply refilling their coffee.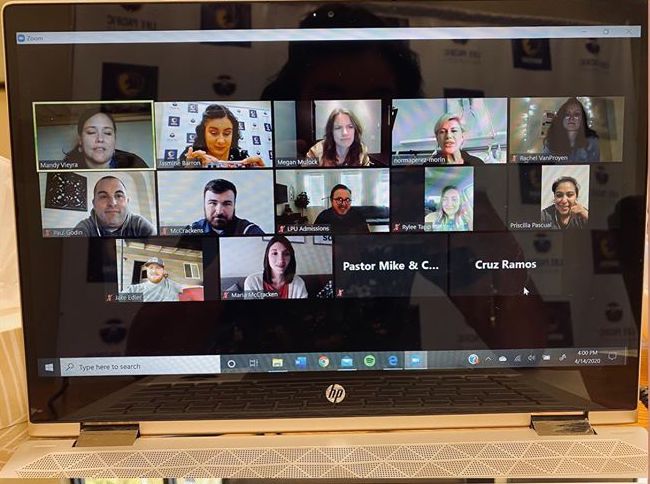 Polity Interview and prayer time over Zoom
The virtual interview process provided a few surprises that added to the student's licensing experience. Additional panelists were included from distant parts of the country because of limited need for travel. Relatives and friends joined students online to celebrate and pray with them after their interviews. It was not unusual to welcome as many as 15 people from around the nation to join a student, all because of the changes to the process due to a global pandemic.
LPU alum and polity professor Lisa Penberthy says that licensing candidates rallied around each other when the "Safe At Home" restrictions were put in place. She celebrates how students created a supportive online community for each other in unusual circumstances where their physical campus community was no longer available.
Staff and faculty always rejoice when students successfully receive their ministry licenses. The 2019-20 academic year included more challenges than usual, but everyone is thrilled that even a worldwide pandemic could not hold back the success of these 32 students and the call of God on their lives.
"We need leaders like these in the Kingdom of God," Kristina adds. "All the more these days, and that is what LPU is about. We prepare and send leaders to be light in the darkness, serving people in the Church, the workplace and our world."