Our President's Cabinet takes seriously any opportunity to serve our students and our San Dimas neighbors.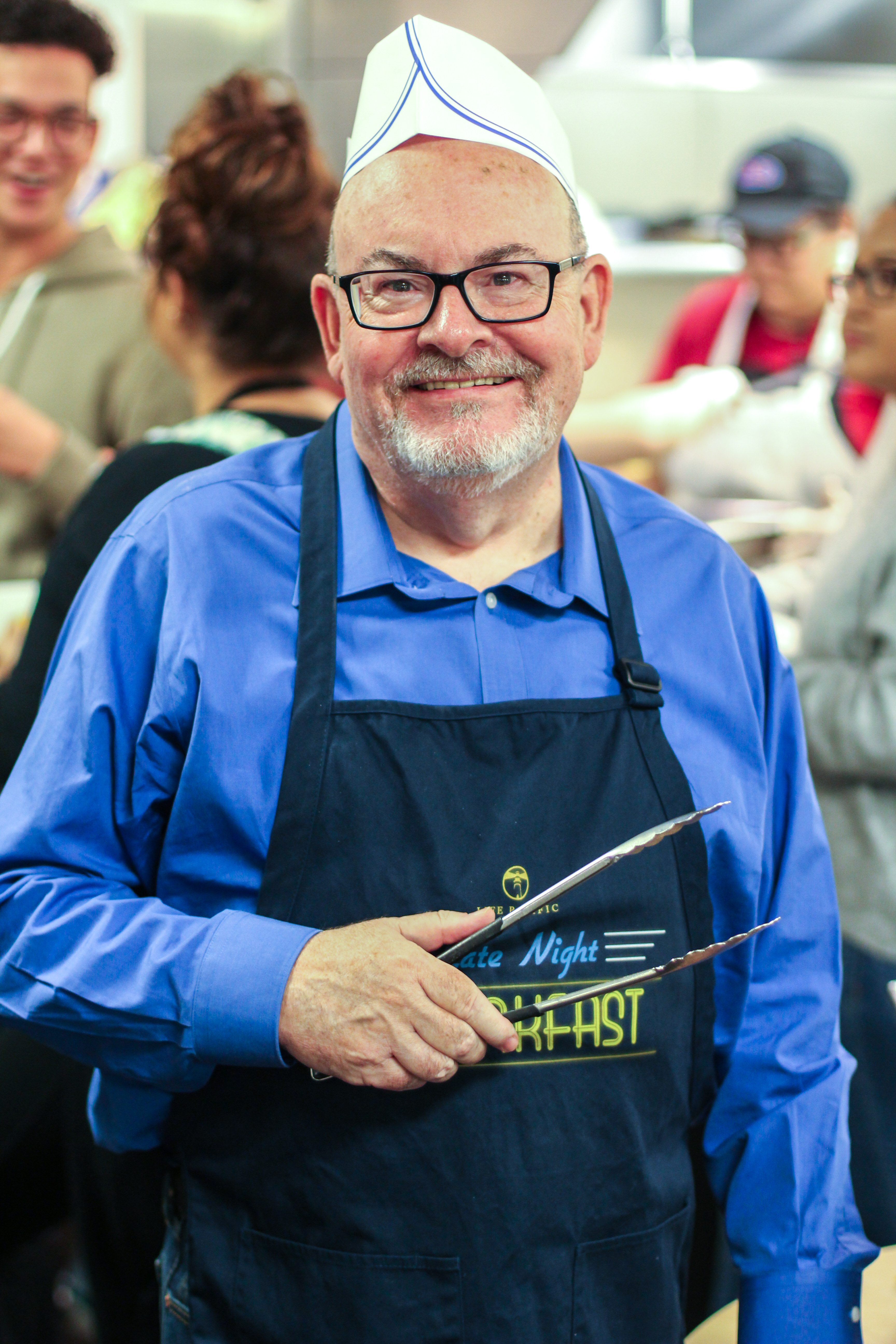 At most colleges in America, the week of final exams and submitting final projects is affectionately known as "Dead Week." Students cram pizza or ramen noodles as they juggle laptops hoping to meet the stressful, looming deadline.  
On the LPC campus, Dead Week this year included the Life Pacific President's Cabinet cooking, serving, and cleaning up in the Café so students could have a hot breakfast - in the middle of the night.
Faculty and staff see it every year - that bleary-eyed look on the faces of many students during Dead Week. This spring, Dead Week was a bit different.
It was fun this year to see our administrators washing dishes in the kitchen as our faculty and staff served pancakes, eggs benedict, juice, and coffee to our students from 10:00 pm to midnight. The event was our idea of turning Dead Week into something a little less stressful for our students.
President Jim J. Adams, Vice President Michael Salmeier, Vice President Mike Meyer, Vice President Angie Richey, CFO Todd Eskes, and Dean of Institutional Effectiveness Brian Tomhave and Board Chair Michael Whyte joined forces in the kitchen. Apparently they made quite an impression because off-campus students even dropped by for a taste of the late night breakfast.
While our Café Crew, led by Mike Adams, handled the cooking, faculty and staff served the breakfast and the President's Cabinet washed the dishes.
It's no surprise that the President's Cabinet would serve our community like this. They do it all the time. President Adams was recently named to the Board of Directors of McKinley Children's Center, a local residence program that also serves the psychological needs of at-risk children, youth, families, and adults in the greater Los Angeles area.
McKinley's campus is within easy walking distance of our San Dimas campus and students from our Human Development and Psychology program intern there each year. Student athletes and other students participate in City Serve projects that help keep the McKinley campus organized as the McKinley staff serve people in need.
Mike Meyer, Life Pacific Vice President of Advancement was recently named to the San Dimas Chamber of Commerce Board of Directors
Affiliations with McKinley may also include sports camps hosted by Life Pacific student athletes for the kids that are served by the center. The partnership is just one of many similar ways our students and local businesses and organizations are serving each other as our President's Cabinet reaches out into the local community, with local schools, the city council, through businesses, and with state senators.
Warrior Golf has found a home at local Via Verde Country Club and we are in the process of working with San Dimas Parks and Recreation to make the gym at a local racquetball club available to our students and athletic programs.
Mike Meyer, Life Pacific Vice President of Advancement was recently named to the San Dimas Chamber of Commerce Board of Directors. His first assignment is serving as chair of the annual San Dimas Holiday Parade.
The President's Cabinet is not the ultimate decision-making body on campus, but rather it serves in an advisory capacity regarding matters of leadership, personnel, and campus life. Cabinet members also extend the reach of Life Pacific into the community and provide a relational connection that benefits our students, our future, and the community we call home.